SCDC runs adult ballet classes in Toronto on Tuesday nights and we would love for you to join us! Whether you have been dancing your whole life or have never stepped foot into a studio before, this class is for you! Adults of all ages are welcome in this beginner-friendly class.
Are you nervous about making the leap (pun intended) to sign-up for classes? That is completely normal but we have some reasons why we believe you should give our adult ballet classes a try:
Our classes are going at your own pace!
It is very normal to be nervous before stepping into a dance class for the first time (or for the first time in a while) but our adult ballet classes are really geared towards everyone! The instructor will set up the class for a beginner-level student however, if you are more advanced you will be provided with some alternative movements that are a bit more challenging.
Throughout this class, you will be able to learn and get comfortable with basic ballet movements or fine-tune your knowledge and skills! If you join for a full session the instructor will get to know you better, therefore allowing them to best help you progress!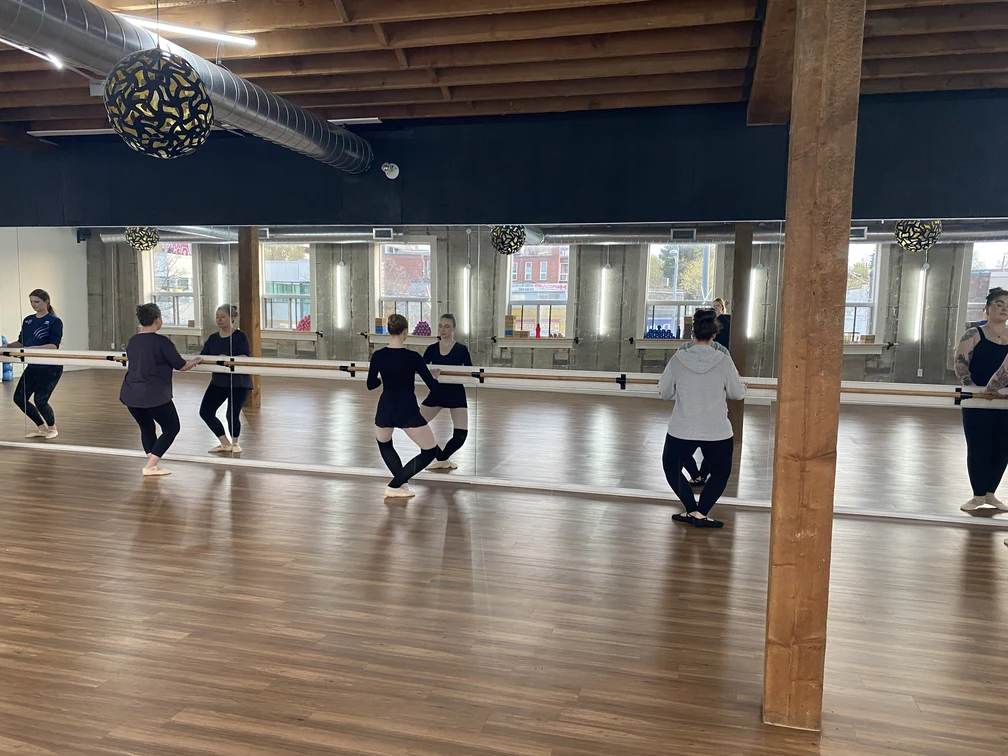 Ballet is a wonderful form of exercise!
Ballet is a terrific form of exercise for adults of all ages! Whether you are 26 or 86, our ballet classes will leave your muscles feeling tired, but happy. It is never too late to begin learning ballet – adults of all ages can join and find enjoyment in our classes. Did you know that practicing ballet increases the amount of control, balance and stability one has, which can improve the quality of everyday life?
Naturally, when we get older our muscles get tighter. Ballet is a great form of exercise for older adults to prevent this because it aids in improving flexibility and lengthening muscles. Upper body focus is also very prominent with the placement of one's arms during a class. Not only will your legs get a nice burn, but so will your arms!
The position of your arms trains people to pay attention to posture while dancing. If you continuously practice ballet weekly, this then results in your everyday posture improving immensely. Good posture is extremely important for a few main reasons. To start, constantly allowing yourself to slouch can result in putting a lot of stress on your lower back, shoulders, neck and spine.
Keeping good posture can also improve lung capacity! Standing tall allows your lungs to have more room to expand, while slouching does the opposite by compressing your lungs. Another large benefit of good posture is improved digestion and circulation. In order to promote healthy blood flow we need to ensure we are in proper alignment with our bodies.
Fun fact, keeping up with ballet will also increase one's energy and metabolic rate!
Ballet classes offer a fun and rewarding way for adults and seniors to stay active, improve posture, balance and coordination, and enjoy the beauty of dance. Whether you're in your 20s or 80s, our classes in Toronto are open to anyone who wants to learn and grow as a dancer.
Ballet is good for your mind!
Setting aside an hour a week for yourself is always beneficial. Coming to a ballet class will allow you to take a step away from the outside world and be present in class.
You will quickly find when taking ballet classes weekly that the movements you learn in class will become sequences you perform every week (especially when warming up). Once you get comfortable with these movements, you will be able to relax, enjoy the movement and quiet your mind for a bit.
As adults we tend to hold in a lot of our emotions, allowing them to bottle up. Taking class gives adults a safe space to release these emotions in a form of self-expression. Sometimes movement is the best medicine and can do more for us than we realize!
It is of course normal and understandable to have some fears and reservations before taking your first class however, over time ballet will increase your self-confidence and limit any doubts you might have. It is always so rewarding to feel improvements in something you have been working on, and that without a doubt will happen in ballet class!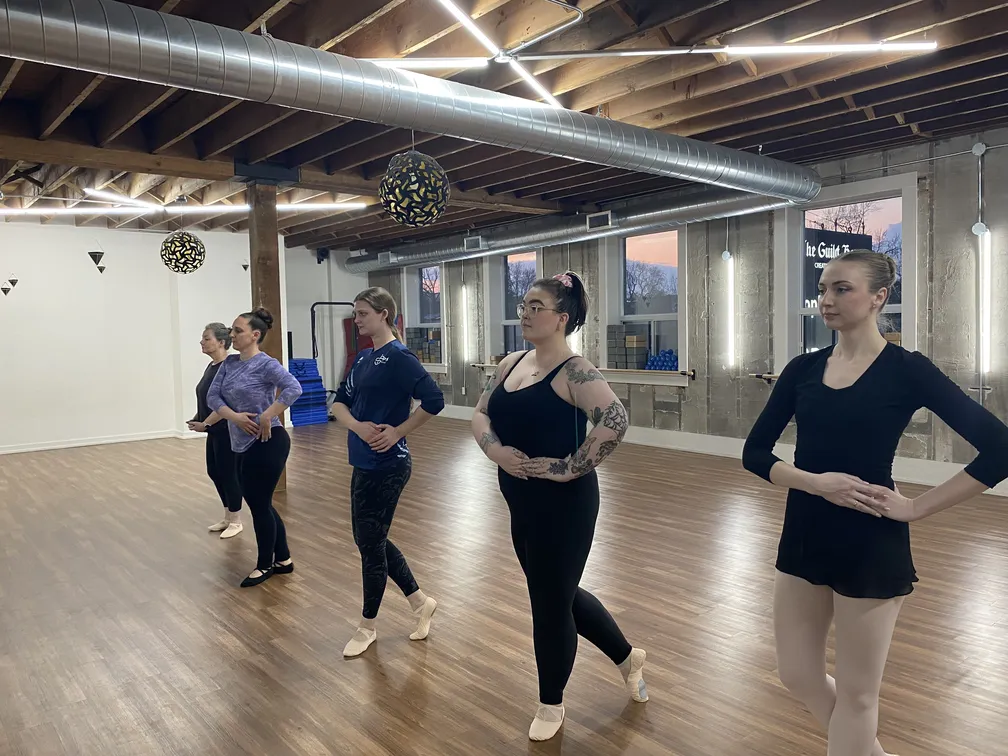 Community
When joining a club in high school it is guaranteed that you will get to meet other people, and the same applies to dance classes! Over time you will start seeing the same familiar faces and make connections in class that you would not have otherwise made.

Last year in one of our adult classes we had two people become really good friends. They coordinated with each other and signed up for other adult classes outside of their comfort zone! Not only did dance class foster a healthy friendship between these two adults, but it also gave them the confidence to try out other genres of dance, together.
All in all our adult ballet classes are go at your own pace and will allow each student to progress their skills no matter where they are at. There are endless amounts of benefits from taking the leap to join a class and those benefits will become very apparent once you get into the routine of coming.
5. The Price Of Adult Ballet Classes
Why not try adult ballet if you want to try something new and exciting? Our classes offer a fun and friendly environment to learn new skills, meet new people and stay fit.
Whether you're a beginner or have some dance experience, our experienced teachers will guide you through each class. They'll help you perfect your form, technique and coordination to become the best dancer you can be.
Best of all, our classes are extremely affordable, with each session costing just $20 + HST! You won't find a better deal for quality dance instruction anywhere else.
So come and join us for a class and let's dance together! We can't wait to see you and help you discover the joy of ballet!